In 4 days H&M launches their collaboration with French fashion house Balmain. As we've seen before, those collabs are always major events in fashion and seems they grow bigger and bigger. Thanks Karl Lagerfeld!
Truth is, that this event always spreads the word about the brand / designer to group of people who might never heard it before and maybe even teaches public about the designer's style. I am sure they boosts sales for both sides with this amount of popularity.
Balmain is quite popular these days for dressing up the Kardashian family and shows that couture can work in favour to the curves. So it all makes sense that main star of this campaign is fierce Kendall Jenner. Just watch the video!
Už jen za 4 dny H&M spustí do prodeje jejich poslední kolaboraci s francouzským módním domem Balmain. Jak jsme se v minulosti přesvědčili sami, tyhle kolaborace jsou vždycky zásadní událostí v módě a vypadá to, že jsou rok od roku větší. Díky Karle Lagerfelde!
Pravdou je, že tahle událost vždy představí značku / designéra zákazníkům, kteří o něm pravděpodobně nikdy neslyšeli a dost možná H&M dokonce učí veřejnost o charakteristických prvcích značky. A jsem si dost jistá, že taková míra publicity pěkně podpoří prodeje na obou stranách.
Balmain je v posledních dnech dost populární, možná díky tomu, že obléká celý klan rodiny Kardashianových a to dokazuje, že vysoká krejčovina se může prezentovat ve prospěch křivek. A samozřejmě to dává smysl, do čela kampaně obsadit divokou Kendall Jenner. Jen se podívejte na na video!
Do you want to know who is the hottie at the end of the video? That's Olivier Rousteing, the young talented designer himself. Betcha didn't know that!
Fair and square I love the collection and I am going to go to take a peek at it at the store and maybe even invest in some piece. I just hate crazy shopping events so I might wait till the next day.
A kdo je ? Je to Olivier Rousteing, sám mladý a talentovaný návrhář. To jste netušili, co?
Upřímně řečeno, tahle kolekce se mi moc líbí a určitě se na ní zajdu podívat do obchodů. A kdo ví, možná svůj šatník i o nějaký kousek obohatím. Jenom nesnáším velké nákupní události a tak asi počkám na druhý den.
And here are my favorites from the collection / No a tady jsou moji oblíbenci z kolekce: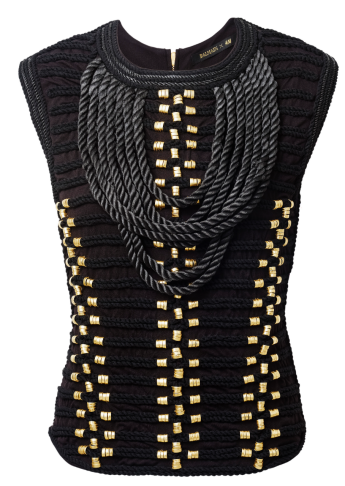 All pictures are courtesy of H&M.
Follow